The Unknow Biblical Israel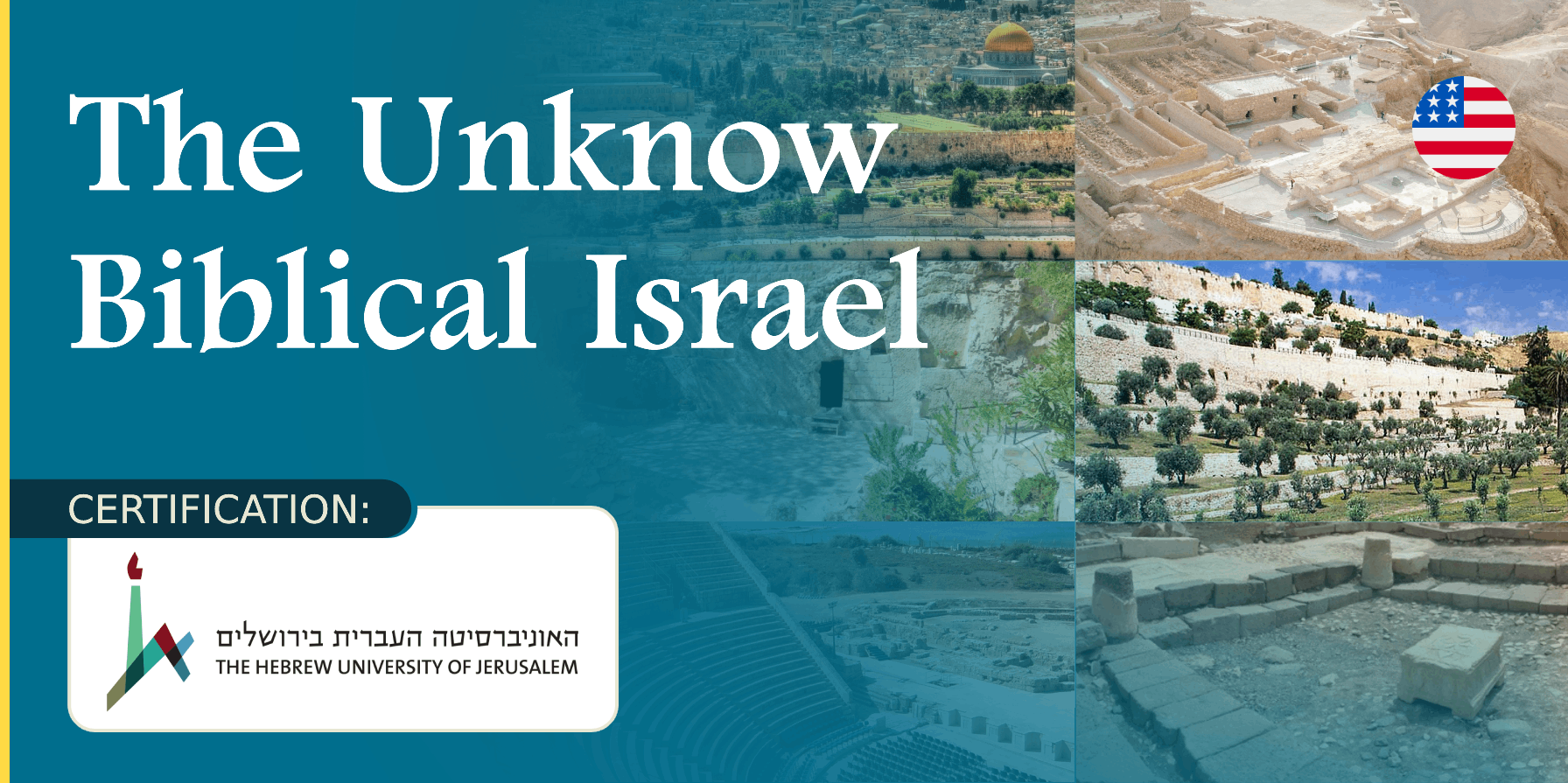 Arrival at Ben Gurion International Airport and transportation to the hotel in Jerusalem
a. Presentation of the program
Topic: Introduction
Israel Museum

Biblical archaeology wing
Hebrew University of Jerusalem

Visit to the Institute of Archaeology
The Tomb of Nicanor
Lecture: "Jewish religiosity in the Greco-Roman world"
Lecture: "Messianic models of Second Temple Judaism"
Topic: Herod the Great
Temple Mount

The history of the Temple Mount: from Abram to the present day
The Holy Temple of Jerusalem
The Golden Gate
The Wailing Wall

What is the Wailing Wall and why is it called this?
The holiness of the place: Why and since when
The Western Wall Tunnels

The construction of the Western Wall according to recent findings
Construction methods in antiquity
Re-use of structures in the middle ages
The Burnt House

The destruction of the Temple of Jerusalem
Herodian Quarter

The life of the priests at the time of the Second Temple
Herodium

Herod's palace, fortress and tomb
The discovery of Herod's tomb
Herodium at the time of the Jewish revolt against Rome
Topic: The peoples of the Bible and their relationship with the Kingdom of Judea
Tel Maresha and Beit Guvrin

The caves of Tel Maresha
The amphitheater of Beit Guvrin
Excavations at Tel Maresha "Dig for a Day"
Khirbet Qayafa:

The history of archaeological research
The Biblical Shaarayim
David and Goliath: Legend or historical reality?
Topic: Samaria in biblical times
Tel Shilo

The 12 tribes
The tabernacle: What is the archaeological evidence?
The importance of Shilo for Christian theology
Mount Gerizin

Mount Gerizin and Mount Ebal in the Bible
The significance of Mount Gerizin for the Samaritan faith
The Samaritan Temple
The origin of the Samaritans according to the Bible
The origin of the Samaritans according to historical science
Samaritan Quarter of Nablus

The origin of the Samaritans according to Samaritan religion
The ethnic Samaritans today: theology, demography and politics
Topic: The Southern Border of Biblical Israel
Tel Beer Sheva

Beer Sheva in the Bible: The Abraham and Isaac Stories
The Israelite period
The altar
The water system
Tel Arad

Arad in the Bible
The Canaanite city
The Arad fortress: when and why?
The Arad Temple
The Arad ostracas
Dead Sea

The Dead Sea in biblical and extrabiblical sources
Topic: Judaism, paganism and Christianity
Beit Shean

The Egyptian control over the land of Israel during the Canaanite period
King Saul
Scytopolis and the Decapolis
Beit Shean in the Roman-Byzantine period
Sepphoris

The capital of the Galilee in Second Temple period
The Land of Israel after Second Temple destruction
Rabbi Yehuda Ha Nassi
Mishna and Talmud
Christian influences on Judaism during the Byzantine period
Topic: The Galilee in biblical times
Ginossar

A meeting with the man who discovered the ancient boat in
Tel Hatzor

Hatzor in biblical and extrabiblical sources
Was Hatzor destroyed during Joshua conquest of Canaan?
Hatzor in the Israelite period
Bethsaida

The kingdom of Geshur
Was King David here?
Bethsaida in the New Testament
Is there an alternative Bethsaida?
Kursi

The exorcism of the Gerasene demoniac
Gerasa or Gadara?
Why did Jesus come to a pagan city?
Topic: Jesus´ final moments: from history to myth
Mount of Olives

The Mount of Olives in the Judeo-Christian conception
The biblical geography of Jerusalem
Church of St. Peter in Gallicantu

The House of Caiaphas: arguments for and against
From the House of Caiaphas to the trial by Poncio Pilato
Museum of the Tower of David – Herod's Palace

The trial of Jesus
Antonia Fortress vs. Herod's Palace
Holy Sepulcher

History of the Holy Sepulcher
The archaeology of the Holy Sepulcher: was Jesus buried here?
Transport to Ben Gurion airport